I smoked some ribs today and wanted to share how I did it. Here's the spareribs front and back:
If you only do two things you are ready to throw this on the smoker. One is remove the flap of meat from the back middle section (but season it up and toss it on to snack on) and two is to remove the membrane. I have cooked them this way before, you just have to watch the thin end, cut it off and snack on it during your cook. On the other hand, you can also trim them "St. Louis Style". This is what I did here. It's not that difficult, just feel your way along the top and bend and look, you see where you need to cut. You may or may not choose to square up the ends either. None of this really matters unless you are in a competition or just food snobs like some of us.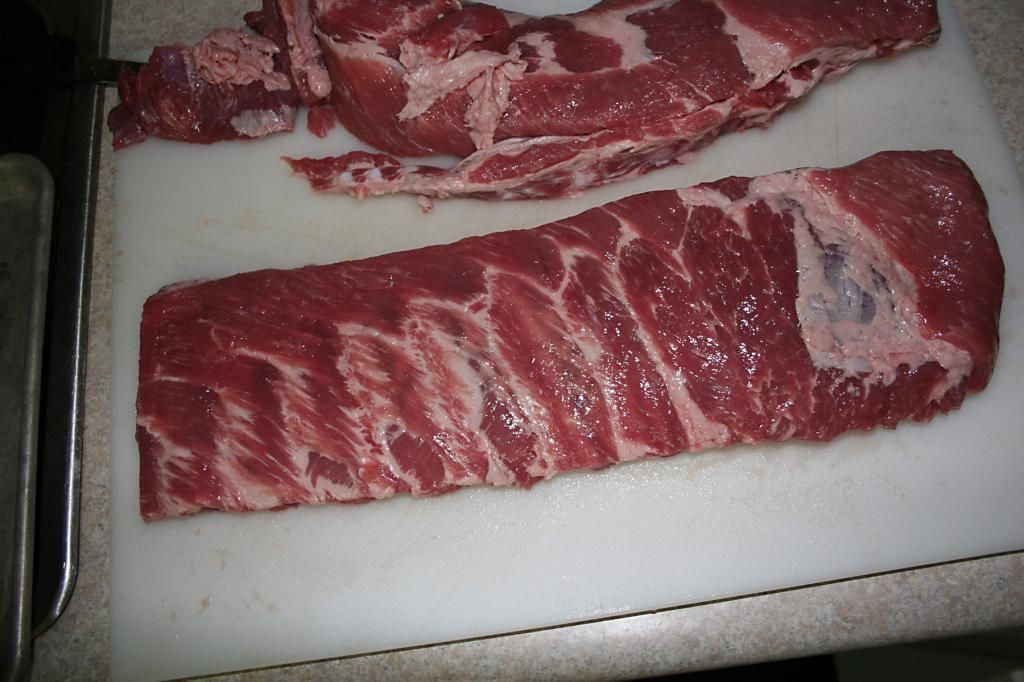 Removing the membrane is pretty easy. If you're lucky you will get one that comes off in one piece. Then you get ones like this one. It looks like the butcher ran the tip of his knife right down the center of the membrane. It will still come off, just a little more work.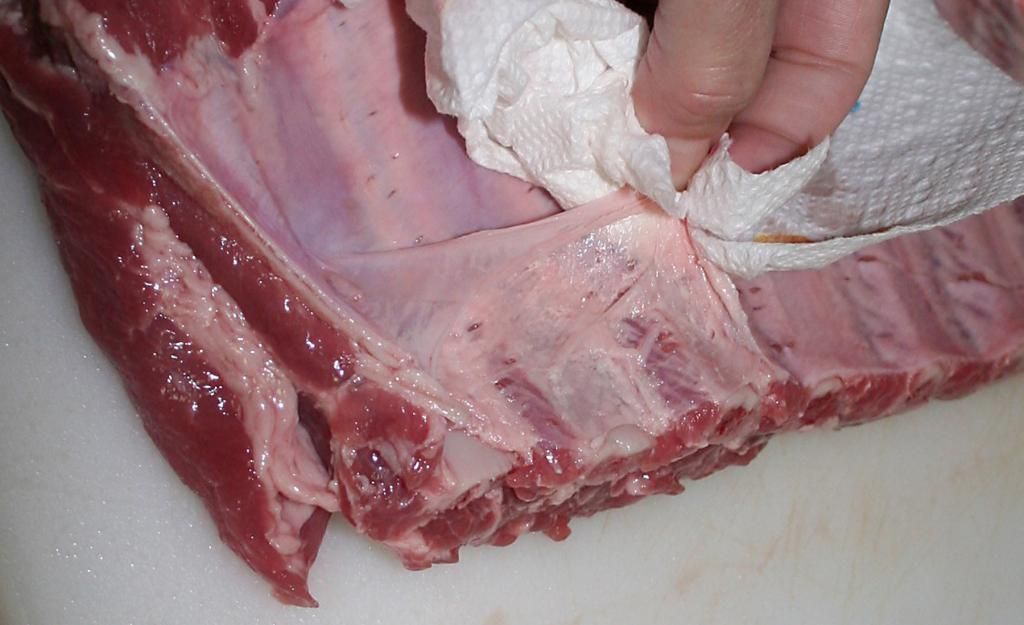 I will use all the extra trimmings to grind along with a boston butt to make sausage in the next day or two. I then lathered it up in regular old yeller mustard. Again, this is preference, you can just add seasoning at this point if you want. I find the mustard allows me to get a nice thick coating of rub on and I prefer that. I have a lot of different rubs that people give me for special occasions so I used one called Blues Hog. It's not a bad blend. You can make your own by googling BBQ rub recipes.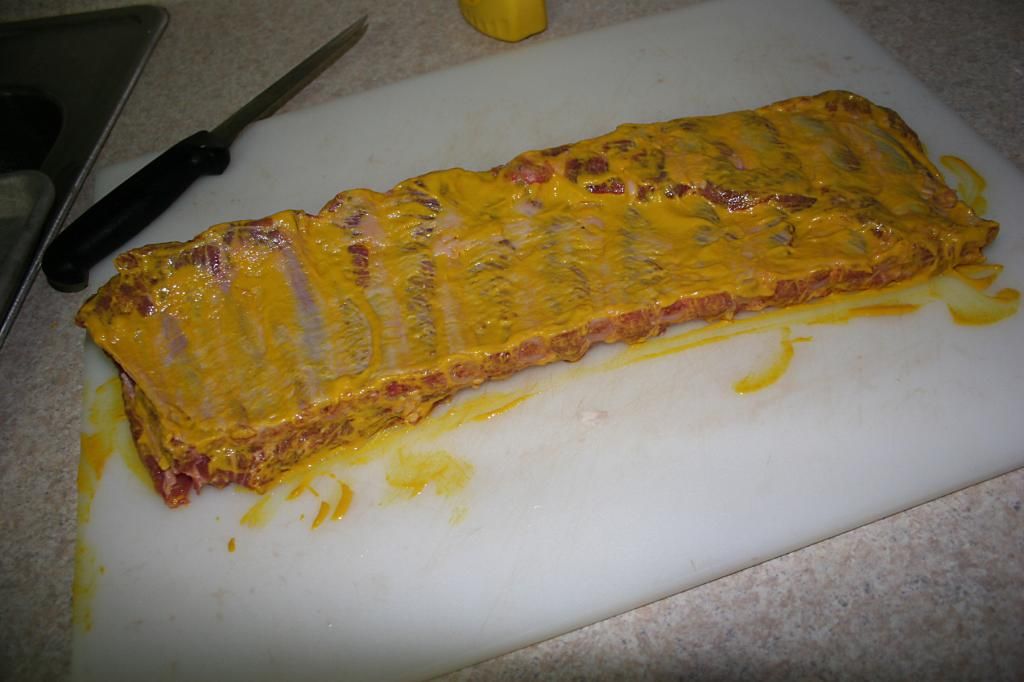 I like the rub to sit for about 30 minutes before putting them on the smoker. It has been my experience if I rubbed them down and let them sit over night in the fridge I got more "hammy" tasting meat.
Loaded them on to the Primo and it held pretty well at 225-250 range. It was very windy and even with all the vents nearly closed it wanted to run hotter, so it was kinda fun being challenged, never know when that will come in handy.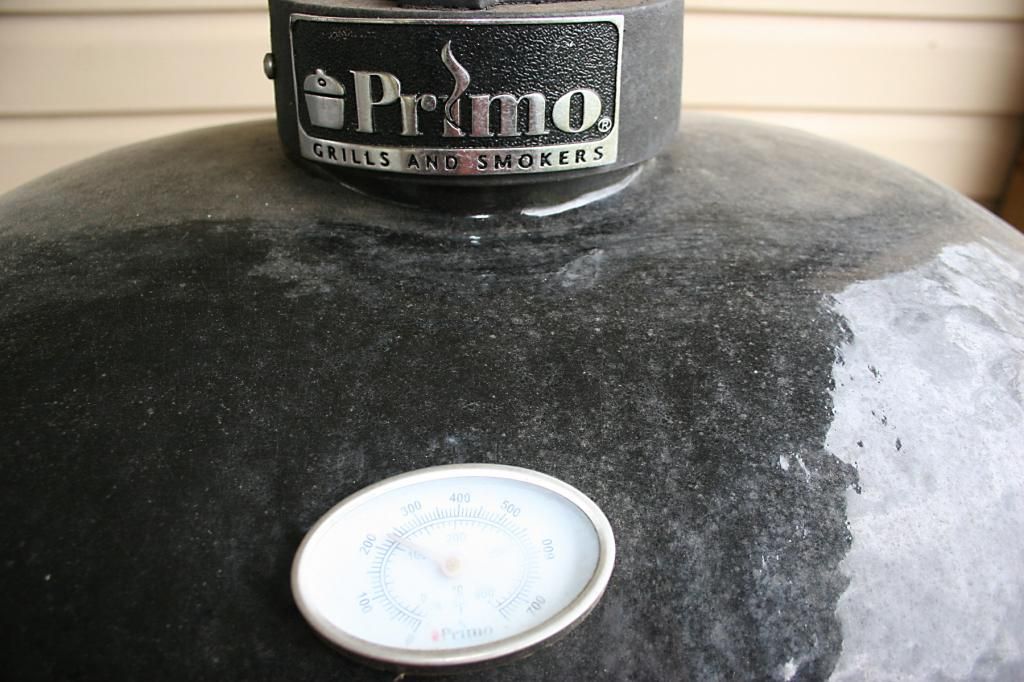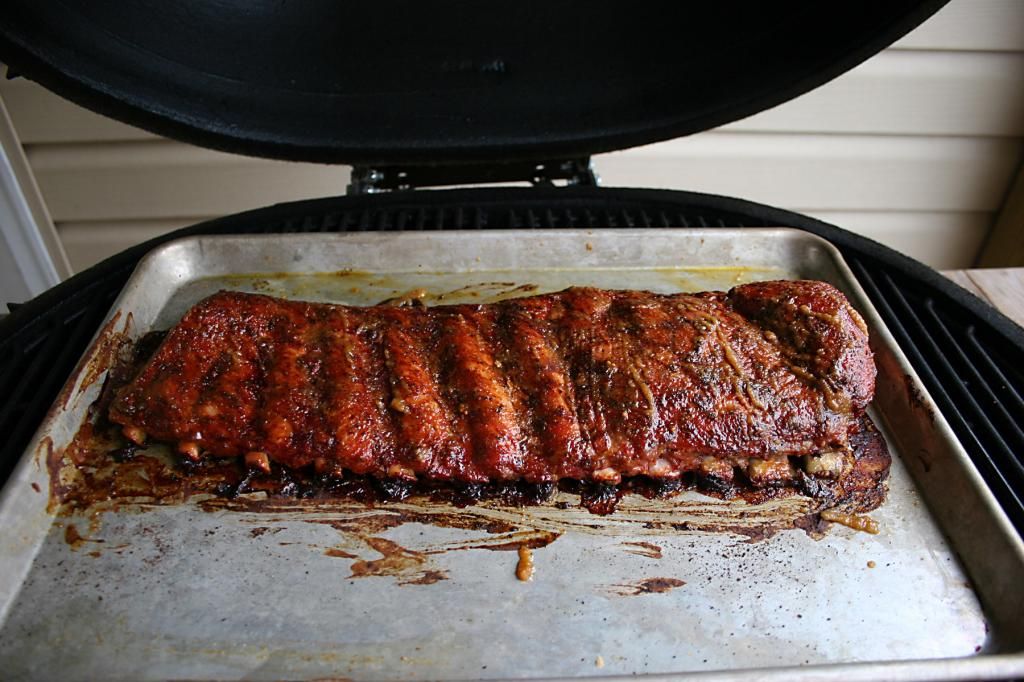 I made a thick glaze to put on them in several stages. First, I took two apples, I had honey crisp on hand, added dark brown sugar, apple cider vinegar, cranberry-pear balsamic vinegar, several big splashes of Tiger Sauce (it's a spicy sauce) I love that stuff!!! Then added a nice splash of Bacardi dark rum and a pat of butter. I added a lightly crushed green cardamom pod to the center and let it slow cook for a good while. Removed the pod, whipped it up with the immersion blender and lathered it on the ribs about 3 hours in.
It only took 4 hours total for these to cook. I highly recommend the "bend" test. You don't want to overcook your ribs. They should not be falling off the bone tender, that means they are overcooked. You should be able to bend the ribs and they give nicely, but not break off. You want to be able to bite right through the meat without it pulling away from the bone, yet it be tender. Here's the last of the pics:
I served it with my version of colcannon. Great meal. I love ribs. I also had some of the spicy applesauce left and dipped a rib in it. Yum.