Since we are a small but feisty lot, I thought you all wouldn't mind if I squished June, July and August into one WC for the summer.  We're all busy doing this 'n that, taking care of family, working, vacationing, even going to school, eh Squirrel!  Or maybe just trying to get a little down time to relax.  Alot to do in the garden... 

 ...be it for veg or herbage, and always something to grill

and eat outdoors!  Yeah!  Why not enjoy a picnic!!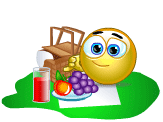 Summertime is for ice cold watermelon

or a big old ice cream

cone, both just dripping down your face!  That's ok because it's your second childhood and nothing cleans up a drippy face better and more fun than a dip in the pool! 

  So whatever your favorite summer activity might be...
....or....
...or even....
 ...enjoy!!  And come back here and share your fun adventures, your best recipes and creations
because we'll be here waiting to see....

What's Cooking at your house this summer!